Meet Anais Caradeux @anaiscaradeux, from Free skier Champion to surfer addict, we wanted to learn more about her passions and how these sports led her to drive her life and travel the world the way she does. Anais has gathered an impressive list of achievements: Notable sponsors, competitions in the X Games and in the Olympics Games and a lot of passport stamps …
We met Anais in Bali, she has been living on this beautiful island for about 6 months and she is sharing with us her new passion for surfing, as well as some of her favorites places to be in Bali.
How did Guadeloupe shaped your connection with nature and the ocean?
I learned to swim before I could even walk, I didn't like at all wearing clothes and always walked bare foot… !
I feel like my childhood gave me this whole taste for freedom. My grandma was taking me every summer on her sailboat. For 2-3 weeks I wouldn't step on land and I wouldn't have the luxury of taking any shower with unsalted water! I did not appreciate it at the time but it definitely shaped me in many ways.
What was your childhood like?
So … my grandma was my babysitter! She is this hippy-idealistic-dreamer. She taught me to be tough, winning was not an option to her haha. She taught me to be competitive.
She would never throw any food, even it the date was expired or the bread turned hard and moldy! "It'll build your immune systems!" … she used to tell me!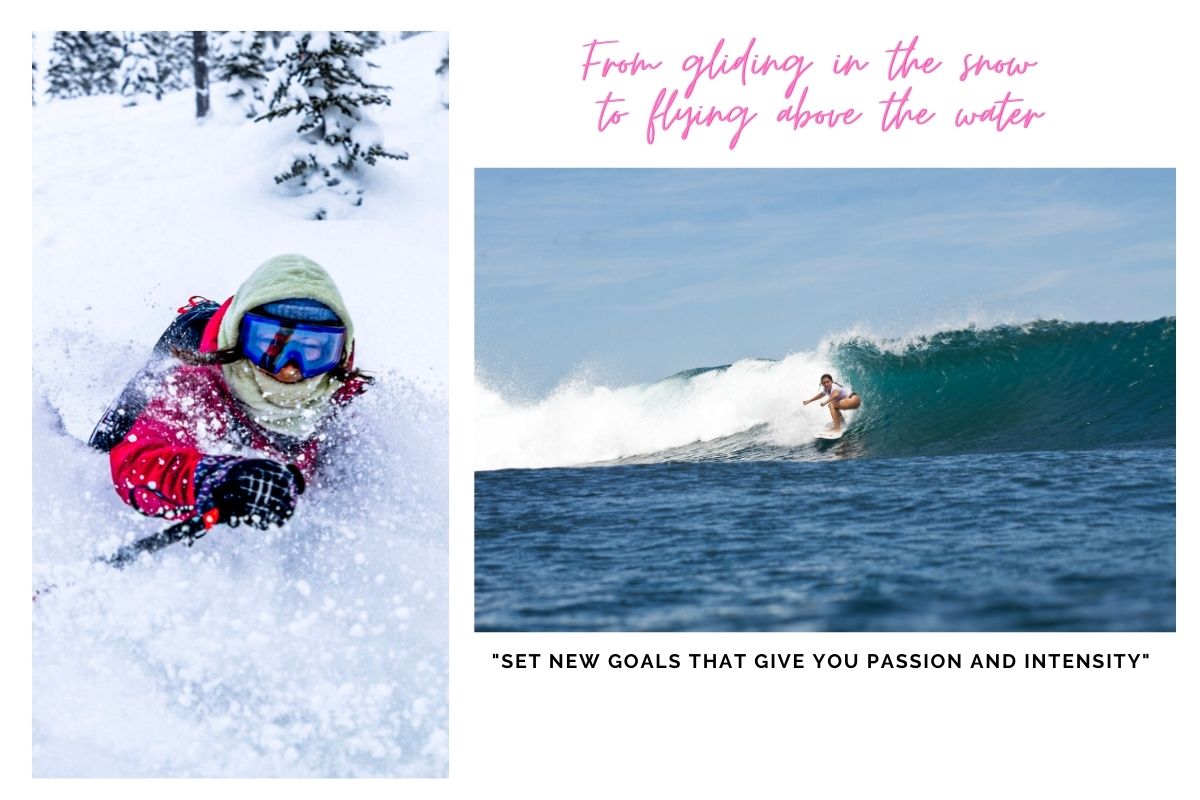 Where does your passion for sports comes from?
My parents were sports addicts, and so is my entire family.
If I came back with a 0 in French but a good mark in sports I knew it would be ok, haha. So I started giving my best into any sports I could try. Ice skating, tennis, wakeboarding… you name it, I tried it! When I started free skiing my parents did everything they could to help me pursue it.
When did you start freestyle skiing competition?
Right after my first season, where I was just following my friends on the weekend in the snow park. The local coach offered me a spot in the team and so my parents moved to the ski resort while commuting to the city for their jobs every day. I started competing the next winter and won my first World Cup that same season. After that, I was following up with classes online and travelled all over the world. By the time, I was 16 years old.
Can you describe your personality in 3 words?
Passionate (not to say sensitive), determined (not to say stubborn) and adventurous (not to say intrepid)!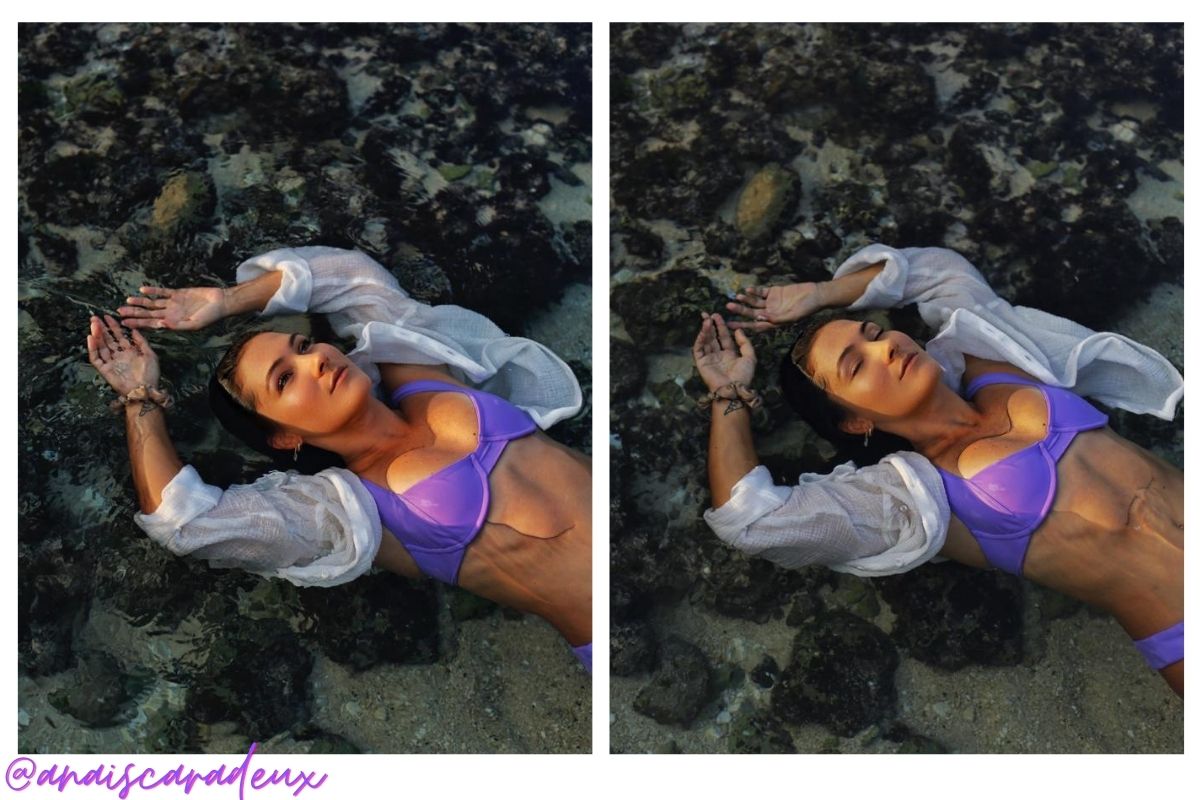 Pictures taken by photographer @frenchyinbali
#Baindeminuitgirls Anais Caradeux wearing our sustainable swimwear the SUZIE TOP MAUVE for her sunset bath on Bingin Beach, Bali.
Favorite Bain de Minuit Swim?
I love the SUZIE TOP MAUVE and SUZIE BOTTOM MAUVE because this is my favorite colour and it has a perfect fit but I am also a big fan of the SUZIE ROSES PRINT as well as the SUZIE ZODIAC PRINT !
What is your day to day surfing schedule like?
Well it depends on the tides and the spot I am surfing at. But my ideal day is to wake up early, to catch a few waves before breakfast, eat, sleep, work or workout then to go back in the water for sunset, a few more waves, then meeting up with friends for diner!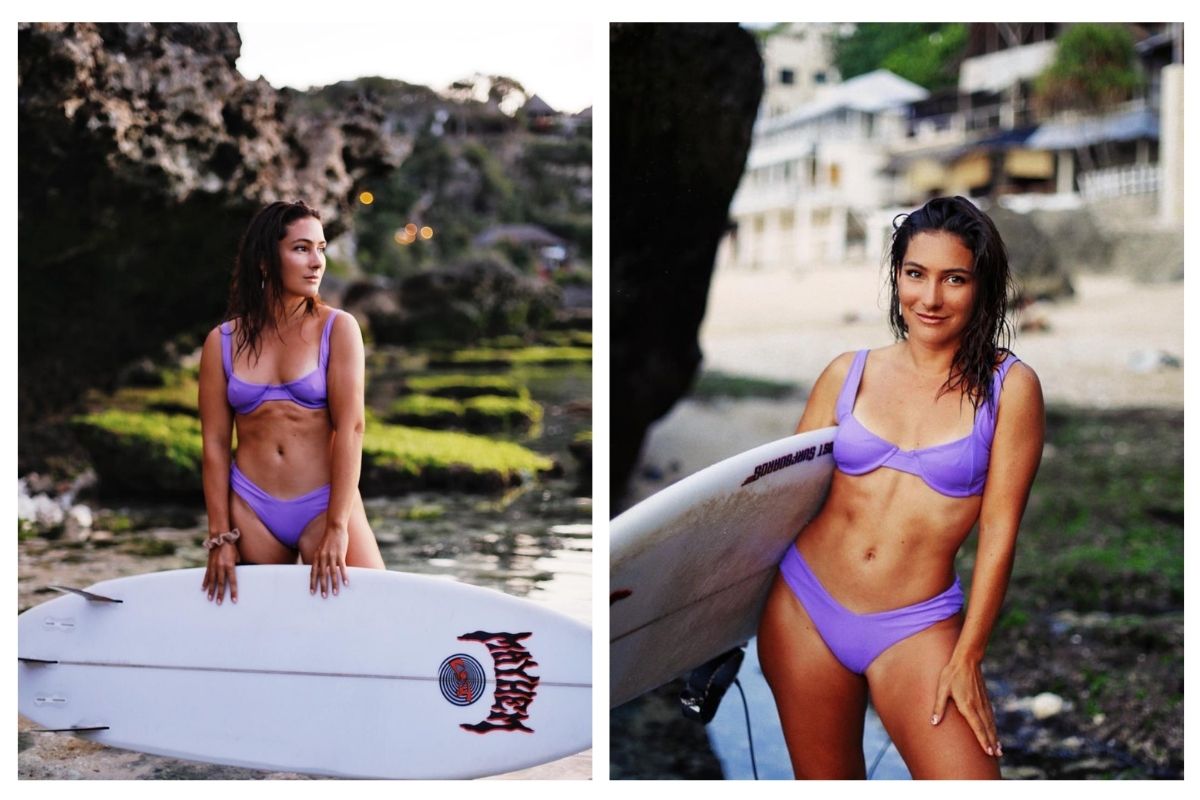 Pictures taken by photographer @frenchyinbali
Your greatest inspiration?
Every incredible women I get to meet, there is straight and beautiful traits in each of us. I have to say I am a big fan of Michelle Obama, Taylor Swift and Coco Chanel. I know, this is a very eclectic group! On a more personal scale, I was lucky enough to meet and compete with Sarah Burke. She was the pioneer of our sport. She fought for women to be accepted in freestyle and for us to have the chance to compete in the X Games and the Olympics games.
What led you to surf?
I started getting more and more injured doing freestyle skiing, the rehab center for athletes was located in the South west of France where the best surf spots are.
Since I couldn't ski for up to 9 months I started surfing and got addicted to it very quickly !
How do you pick a swimwear to surf?
Well, firstly I will look at the fabrics and colours. Often, I find very nice designer bikinis but the colours are always very dull or common.  To have minimal tan lines is an other important criteria to me to select the right bikini, especially regarding the amount of time I got to spend in the water while surfing.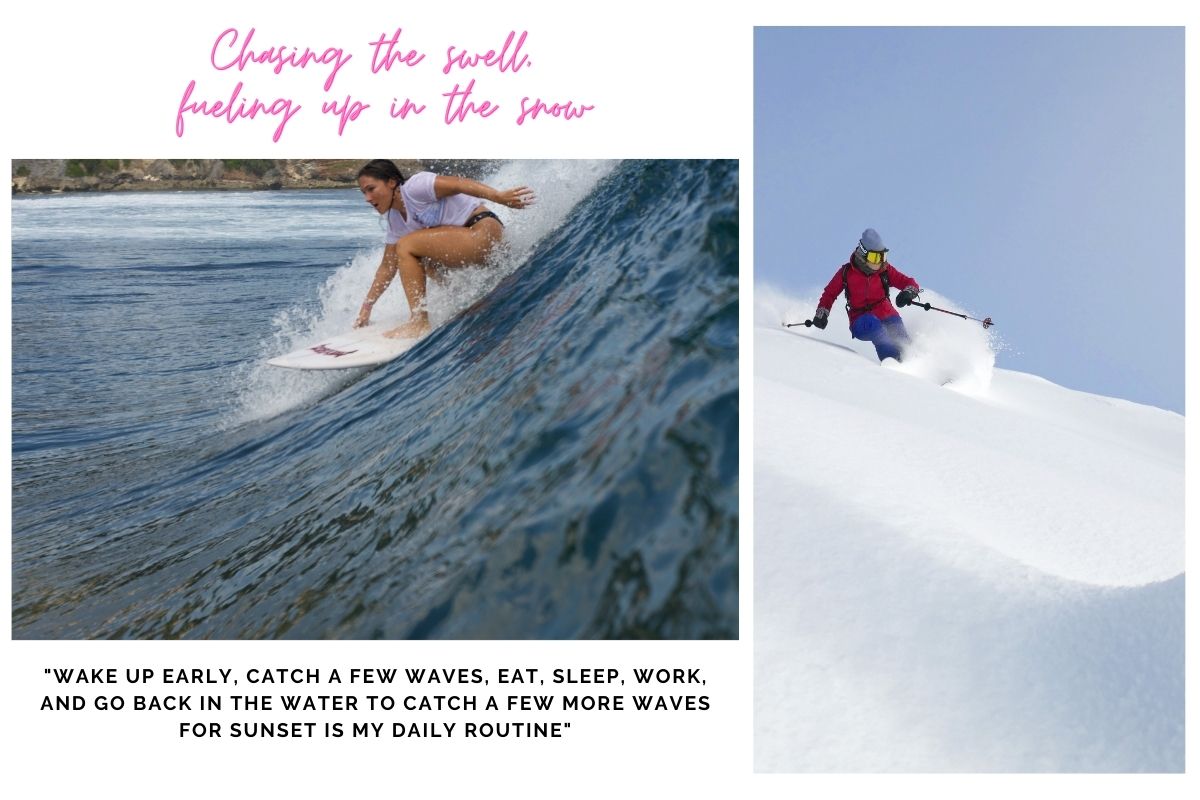 What was your favourite medal?
My very first X Games medal! It was the first time I was invited. When I received the invitation, I was already flying over the moon! I had been dreaming about it since I first started freestyle skiing. To be on the podium with my idols was just unbelievable.
How was it to compete in the Olympics Games?
I should say incredible, but the reality for me was a bit different … I was very shaken by the fact that I wasn't surrounded by my friends and teammates (from different countries). The conditions in Sochi were far from ideals. I also had a lot of pressure on my shoulders, I wasn't physically 100% both times. But the overall experiences over the past 8 years and the opportunities it offered me, those were incredible.
How's your life looking like after retiring from Ski competition?
Well, you have to learn about yourself outside of a competition mindset.
To set new goals that give you the same passion and intensity is the hard part.
To create a new life routine, accepting that your body will change, your values too and to take the time to grow your personality on several matters.
At the moment I am taking some time to choose which path I want to lead my life on. So many possibilities with their ups and downs sides. I just have to remind myself that life is not a race.
What's your favourite place to travel?
I love countries with very different cultures and values. Japan is one of the most interesting culture I have ever had the chance to immerse myself into.
Bali is my second favourite. Bali is very spiritual … "Island of the Gods" is the way we call the magical island of Bali.
Your favourite surf spot in Bali? Favourite beach to chill?
??‍♀️ My Top 3 surf spots while I am in Bali :
Balian in Canggu 2- Shipwrecks in Nusa Lembongan 3- Green Bowl beach in Uluwatu
My favourite beaches are in the South of the island, in Uluwatu. If you ever have the chance to visit the beautiful Bali I would definitely recommend Bingin beach, for the true hippy & gypsy vibes. Bone fires at sunset, fresh grilled fish from local fishermen and a fresh coconut are on their daily menu.
My second favourite place to go to the beach is the island of Nusa Lembongan. I hold a special space into my heart for this one! If you love diving, snorkelling, and of course surfing, you can't come to Bali and not visit Nusa Lembongan.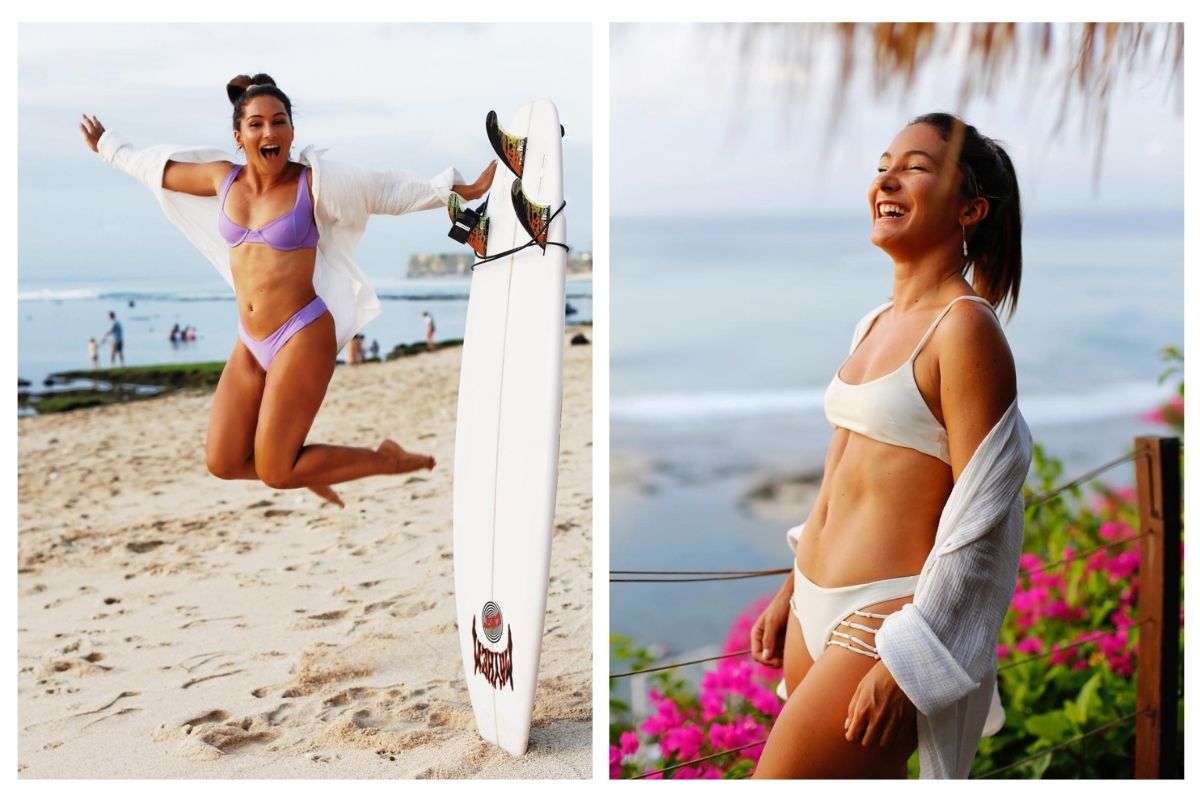 #Baindeminuitswim On the left: SUZIE SET MAUVE & right: LUKE + LEON IVOIRE . These bikinis have both been made out of ECONYL fabrics using nylon wastes and fishnets retrieved from the sea.
If you could share one thing about Bali for people who've never been on this island, what would it be?
Go to Nusa Lembongan, discover a little piece of heaven. Be respectful of their culture and customs.
Where does surfing leads your travelling plans?
Next, I am hopefully visiting my family in Guadeloupe, this Caribbean island I am native from.
What's next? Future plans, goals?
 I am working on 2 videos projects :
"backcountry 101" season 2 where I will document my transition from freestyle to freeride, meeting incredible athletes and professionals to share their knowledge with my community. The season 1 is available on my IGTV (instagram TV).
A documentary … I would love to tell you more about very soon! I also work on my entrepreneur skills in various projects.