Today, let's get real with our #baindeminuitgirl Ana Houpert ! She is only 19 but she knows already what drives her in life, and where she is heading to ! Ana was studying Sustainability at the University before deciding to move next to the sea in Seignosse (France), in order to change her life by doing everyday the thing she loves the most… surfing ! For Ana, surfing is way more than a sport, it defines a lifestyle. Ana is a real #baindeminuitgirl – she is adventurous, independent, eco-conscious and a nature lover.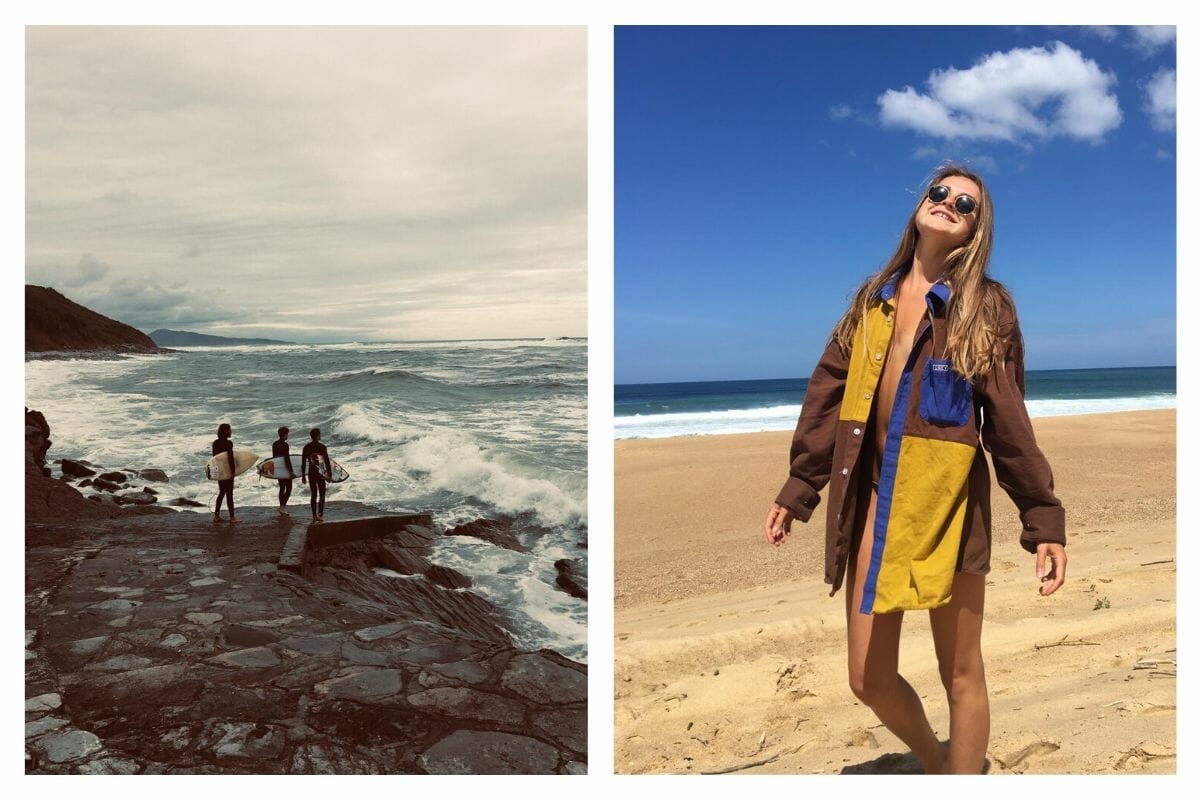 How old are you ?
I am 20 (very soon:))
Astro sign
Scorpio
Tell us about your passions
I am passionate about waves, travels and and more than anything … Life ! I am constantly in the search for adventures, new experiences and in the pursuit of Sunshine. Ocean & salt water have awakened new passions, as surfing and skateboarding.
Inspired by nature, I am also into ecology, yoga, well-being and nutrition.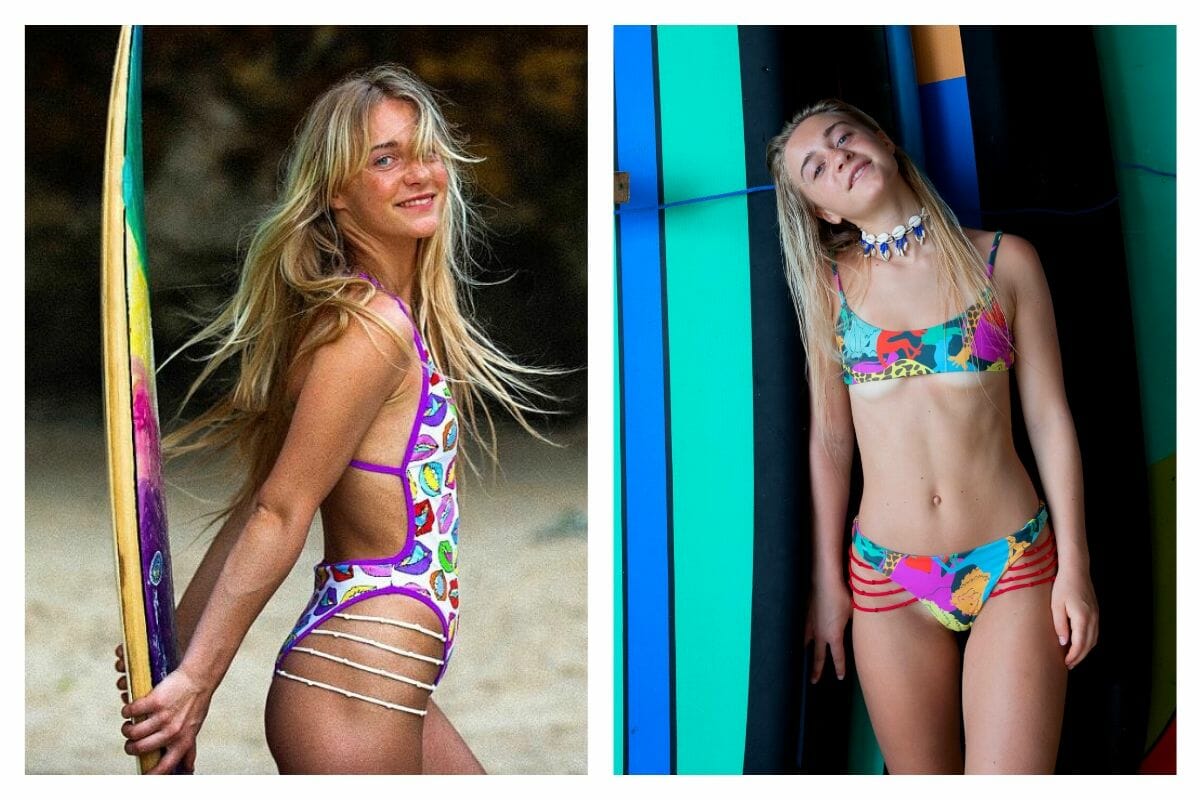 How early did you get into surfing and who introduced you to it ?
I caught my first wave five years ago, in Les Landes, in the South West of France. I still remember the smile on my face that day. When I was a kid, my parents took me there for holidays, and right now that's where I live. However, I really started to enjoy surfing last year, while I was traveling around the world.
What is the surf like in Seignosse ?
I love surfing in Seignosse especially during Spring and Autumn. There are less people in the water, the waves are often nice and the weather is warm enough.
What's a typical day with you ?
Winter days are lazy days. So let's talk about summer. I wake up early in the morning, drink some water with lemon, then follow yoga and meditation. When it's not too late, I can take a walk in the forest or at the beach next to my appartement. Then I grab a banana, my bike and I head to "Green Cantine", in Hossegor, the restaurant I work at. After work, I eat an acaï bowl or vegan Buddha bowl and I go for a surf session to enjoy the sun and the waves. By the end of the day, I often meet my friends to go skating. At night, we all go catch the sunset on the beach and talk for hours. That's a typical happy day in Seignosse!
What is your next surf destination ?
My next surf destination will definitely be French Polynesia… fingers crossed. I also plan on volunteering for Coral Gardeners in Moorea. I will also probably go to Spain or Portugal before. We will see 🙂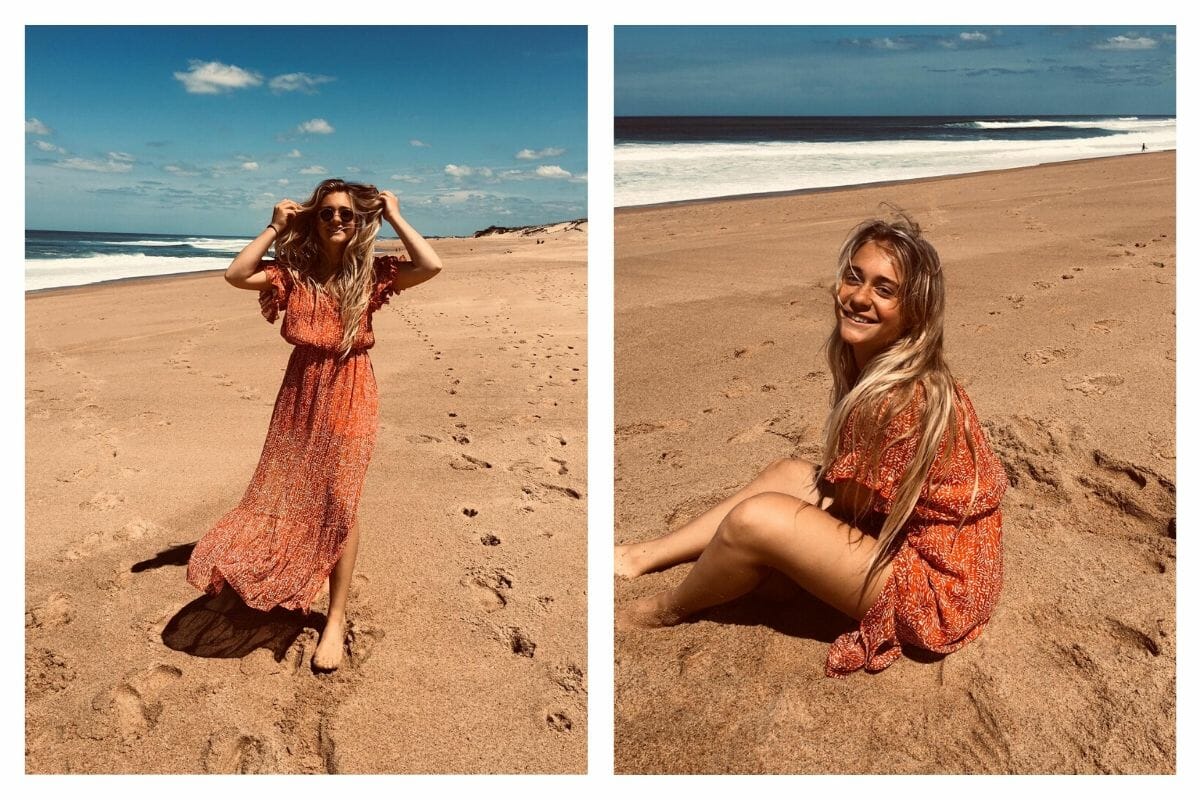 Which Bain de Minuit Swim would you bring with you if you could pick only one ?
My favorite Bain de Minuit swimsuit is the Luke Top Wild Animals and Leon Bottom Wild Animals. I love the colors and the sexy shape. This swimsuit keeps me comfortable and has a good coverage to surf.
What inspires you and what do you like about surfing ?
I really enjoy surfing: it makes me feel strong, because i am getting out of my comfort zone, and I love this feeling. The ride gives me a lot of adrenaline. I also can't stop smiling when I am in the water. It brings me so much happiness and peace of mind. There is also this connection with the ocean which is just a pure bliss.
What is your most inspiring travel experience ?
My most inspiring travel was last summer, in Portugal. I grabbed a bag and left home for two months. I've done a "Workaway" (also known as work and travel). I met so much happy people, I ate so much good food, and seen so many amazing landscapes. I recommend surfing there as well !
Where do you see yourself in 5 years from now?
In 5 years I just see myself happy, healthy, in an island, surfing, eating fresh fruits, spending my days under the sun, acting for the environment.
What's your philosophy in life to be happy ? What drives you everyday ?
I have a lot of quotes and state of mind that inspires me to stay happy and motivated, but I guess this quote really drives my life : «  If you never try, you will never know » ??
What does Bain de Minuit Swim evokes to you ?
Bain De Minuit Swim represents freedom to me … a sexy bikini to ride good waves ! The Brand represents also the dreamy life I want to have : living on an island, with salty hair and a bikini … do I need much more than that ?!