It's the middle of the week, we are meeting in a cosy coffee shop in Brooklyn with Marie Teissonnière – we are seated in a little french spot she's used to go to – L'imprimerie. It's the end of the Summer in New York, beginning of what we call « L'Été Indien » in France. Two croissants later, we start our chat with Marie, we want to know everything about her experience in the modeling industry, how she started and what it feels to be a Frenchie in the Big Apple !
At only 22 years old, Marie has travelled around the globe and lived in Los Angeles for a few years, she now moved to New York to pursue her model career. Baby face and doll curls, she's already been working with some of the greatest names in fashion. Along our chat, she is sharing with us some of her most loved places in the city along with her passions and some advices on various life topics.
After this afternoon at the café, we propose Marie to take her to one important « actor » of the New York's scenery … a Rooftop ! In New York city, many great events from parties to art venues take place on rooftops. Also Here are some films taken in her favorites #Baindeminuitswim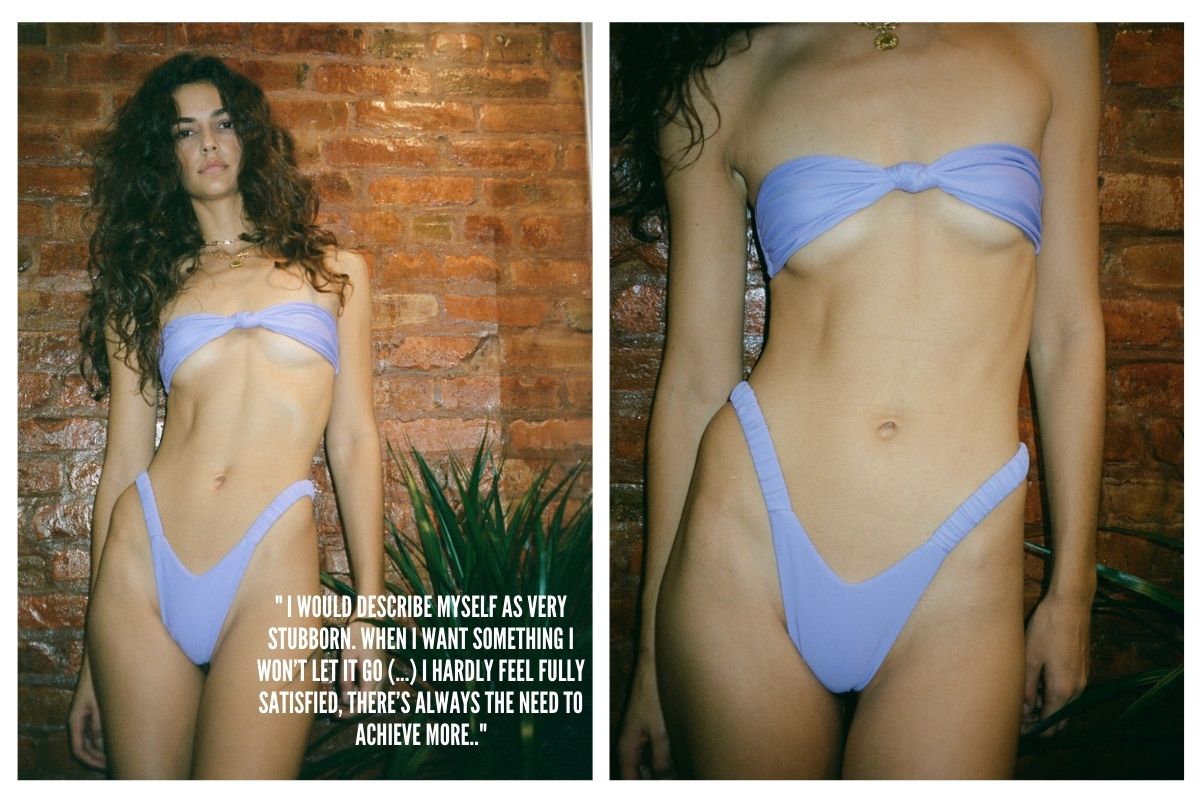 Marie wears the GINA MAUVE Top & Bottom
★ Tell us a few words about yourself ?
I'm french, I grew up in the South of France, in Avignon, raised by a single mom with whom I'm very close. I used to hate school and was only thinking about traveling and making my own money to be independent and free. So I've started to work very young, around 15 years old during the holidays or weekends. Modeling was a dream of mine that I would have never imagined being possible!
Five years ago,  I've been discovered by Newwavemanagement and that's how the adventure began! 🙂 I've been doing this full time since 4 years now and am very happy about it.
I would describe myself as very stubborn. When I want something I won't let it go, which is a good thing somehow since I will push myself the most until I reach my goals. But I hardly feel fully satisfied, there's always the need to achieve more. I'm also very empathetic, most of the time in a good mood and energetic. I need constant movement in my life! Voilà 🙂
★ How does it feels to be a Frenchie in New York ?
I love it. New York was a dream to me since my 12 years old. I used to imagine living in New York, doing shopping and meeting my friends for brunches in Manhattan. Thanks to « Sex in the city » ! (laughs) Until I got scooted and started modeling, I didn't really know how I could, one day, get to live here. I'm very proud I've made it!
★ What do you love the most about living in the Big Apple ?
I love how New York is so cosmopolitan. I felt home instantly, I love the mix of culture and how people are open minded here, you rarely feel judged. It's a real melting-pot and it's so easy to make friends.
I would say New York got my heart also by the fact that it never stops, the city is in constant movement. I like this fast-busy energy. Will probably tell you something different when I'll be older but for now, I enjoy it !

★ And what you miss the most from living in The South of France?
The FOOD… !!! I've been dying to eat the traditional French food ; good cheese, Baguette, real french pastries, good wine…  But I mostly miss the sea. I grew up near the ocean and I used to be able to walk to the beach whenever I wanted to. Especially in the South of France where, in my opinion, we have one of the most beautiful beach – « Les Calanques » in Marseille is a must if you happen to be in the area.
And I miss My mom… Every day!! She is my best friend, and I owe her everything.
I usually have her travel with me wherever I go, but with the situation regarding the virus lately it's been impossible for her to travel from France to visit me. It's been 9 months now that
I haven't see her and its the first time that I am far away from her for that long.
★ Your secret hiding spot to refuel from the city's crazy energy ?
My bed ! No jokes, when I feel down, sad or exhausted, I just like to lay in my bed, go under the blanket and that's where I can recharge and refocus on myself. It's my peaceful and quiet spot where I also get most of my ideas and projects from. New York can be very noisy and consuming at times.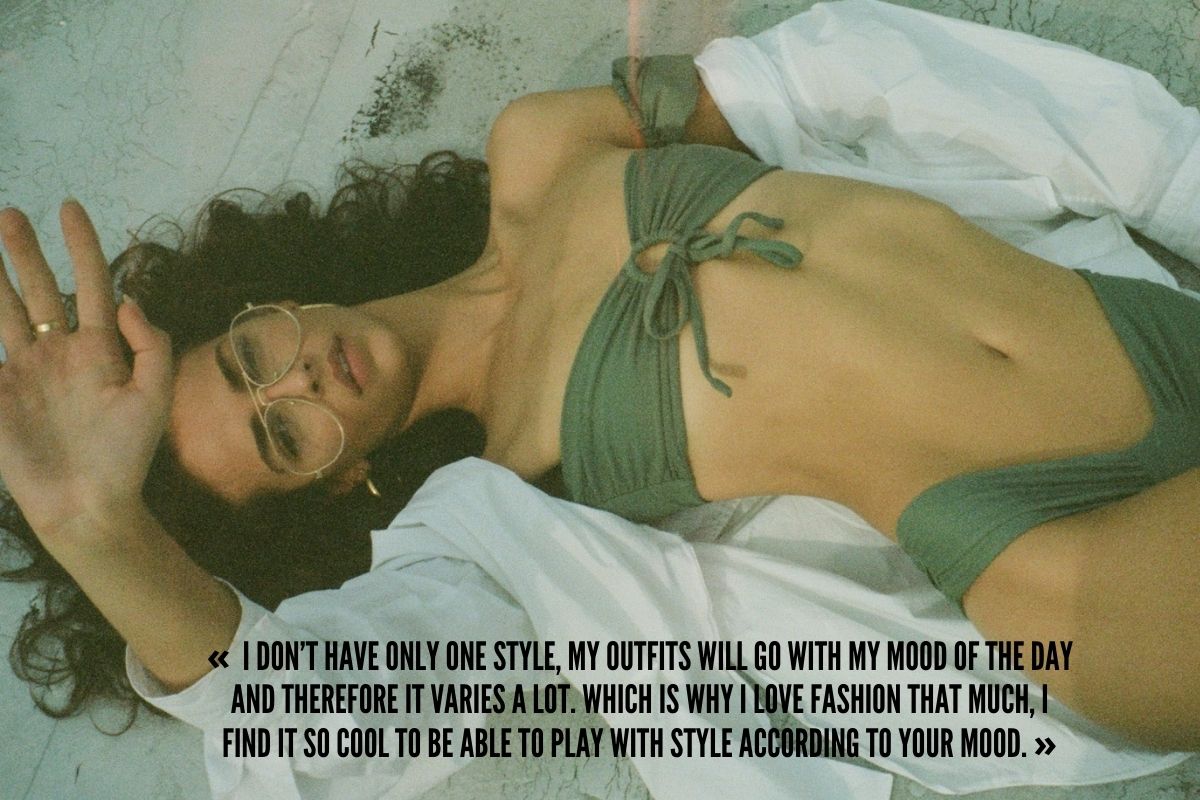 Marie wears the CHÉRIE ARMY Top & Bottom.
★ Your favorite addresses for coffees ?
Blue bottle coffee –  There's many of them, in Brooklyn and in Manhattan as well. I also love Bakeri, in Williamsburg. They serve very good pastries, scones and chai lattes! They have a cute open-door space where I like to sit to read while I have my coffee.
★ How does your style and the pieces you chose to wear reflects your personality ?
I don't have only one style, my outfits will go with my mood of the day and therefore it varies a lot. Which is why I love fashion that much, I find it so cool to be able to play with style according to your mood.
Whenever I want to be comfy and easy going, I go for sneakers and loose outfits, all in a « streetwear vibe ». If I want to feel very feminine, sexy and powerful I would go for big boots heels and tight outfits.
★ Favorite vintage shop in the New York City ?
Goodwill, in Manhattan, on the 2nd avenue.
They support communities and they take unwanted pre-used clothes out of landfills which is amazing and a way to shop green and sustainable  !
L Train Vintage always have really good deals as well! Most of my clothes come from vintage shop, I like the process of spending time to find unique pieces. It's important for me to shop second hand. When I buy new clothes, I try to pick eco-friendly brand most of the time. I think it's amazing that Bain de Minuit is making their swimwear out of recycled materials only, because it's clearly the future!
★ What is your mantra in life ?
Do not compare your life to others. Social Media encourages us to always watch other peoples lives and we tend to not be grateful enough for what we have, because we are too focused on what we don't have. So stay focus on you and be grateful –
There is this quote that like and it's beautiful, very true ; « There is no comparison between the sun and the moon, they shine when its their time. »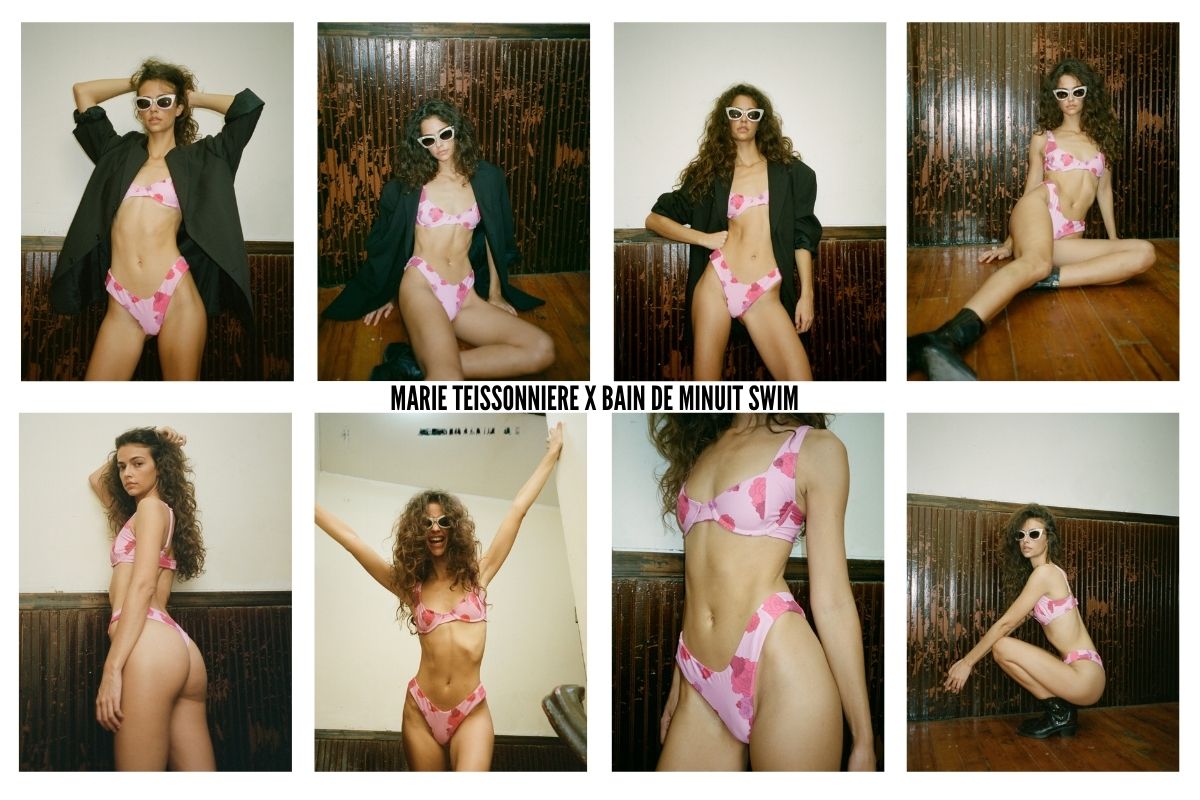 Marie wears the SUZIE ROSES Top & Bottom.
★  What's your tips for self-confidence ?
We are all different and unique in our own ways. Believe in yourself, and do not pay attention to what other people think or say about you.
★ How would you define your style ?
Casual chic, tomboy. I love to mix differents styles together. My closet is various! From neutral tones to very colorful pieces.
★ Favorite day-off activities ?
Go to the beach, walk in the streets of Soho, do some shopping, watching French movies. Honestly, when I don't work I hang out with the people I love, eat in good places, and take time for myself.
★ You travel a lot as a model, what is your favorite place for holidays and recharge?
I don't really have a favorite place for holidays or recharge. Most of people would say their hometowns, but traveling is one of the thing I love the most and I am always looking for a new destination to go and I guess that is how I recharge. Extending the travel list ! 🙂
★ You lived a few years in Los Angeles, then you moved to New York, do you miss living closer to the nature ?
I do. Los Angeles was a very good mix of everything ; city, ocean, desert and mountains. Seriously where else can you have it all in one like in L.A ?! I miss the ocean a lot, being able to swim and go for hikes, and the very particular smell that California has. I miss running from the beach to a casting with my salty hair and still feeling the warm sun on my skin on my way.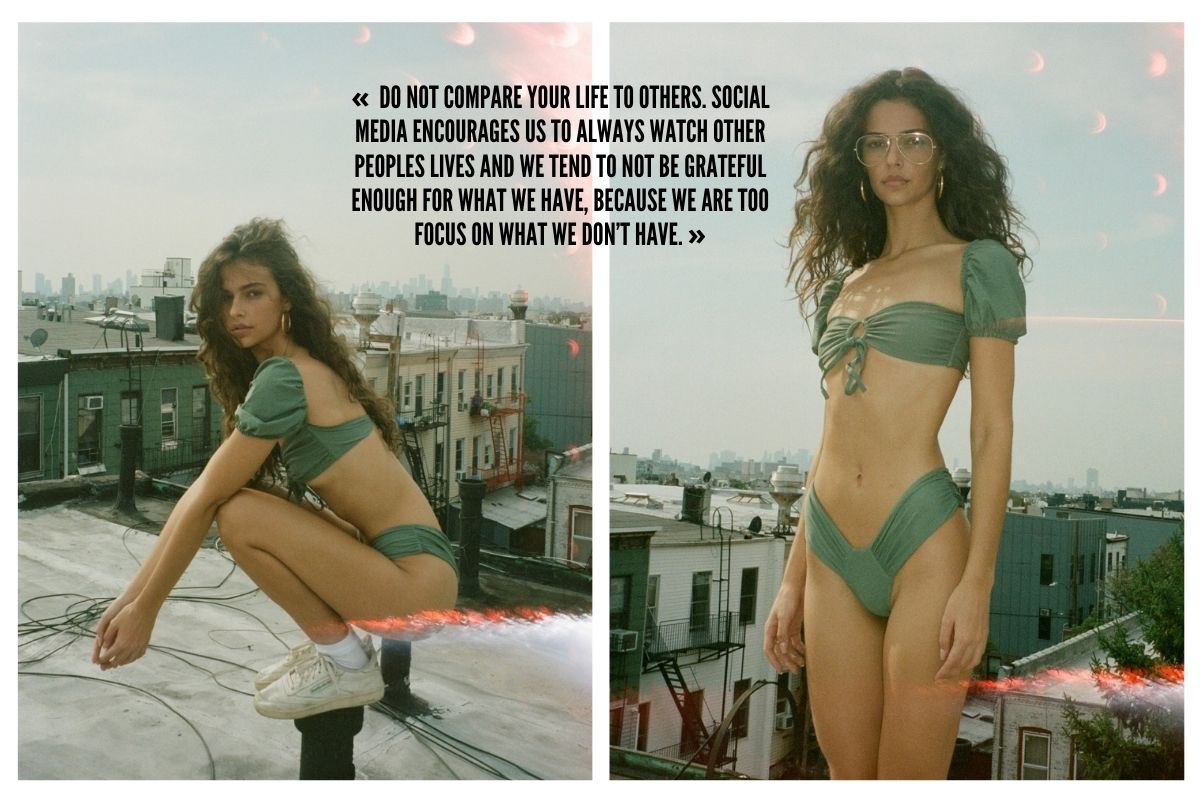 ★ How do you pick a swimwear ?
Most of the time I go for classic and timeless swimsuits that I will be able to keep for a while – as I said below I value sustainability! – so I look at the quality too. I attach a great importance at the cuts and fits a lot. I need to feel comfortable in a bikini, and this go through the way it makes me feel when I wear it. I love to shop online for most of my swimwear.
★ Are you more into One-pieces or Bikinis ?
BIKINIS !! I am obsessed with tanning (wear your sunscreen people!!) and I don't really like tan-lines so a One-piece is beautiful but feels way too frustrating when I am laying under the sun (laughs). But I think it's very pretty and I sometimes like to style a one-piece with a pair of jeans or a skirt for a Night at the beach!
★ If you had to pick only 5 essentials items to bring on a trip ?
My phone, my camera, a french 'Rouge à lèvres' (lipstick), my earphones to listen to some music and a good purse to put it all inside.
★ What is your favorite Swimwear from Bain de Minuit ?
The ZOEY TOP and the CHERIE BOTTOM !! I have them in white, and it's the best fit I ever found for a small breast like mine! It's adjustable, which makes it really convenient, and the fabrics are just so soft. It feels incredible on the skin. The CHERIE BOTTOM is perfect as it has a cheeky cut and yet, not too much.
★ Your next destination ?
Brazil !!! Tropical destination, my favorite! I can't wait to enjoy the ocean again.
★ Main goal for this year ?
To be healthy and happy !